this morning, my office mate,
Edot
told me tht she had this funny dream last nite. It's abt us n other officemate went to
ISS (International Space Station)
with
Dr.
Sheikh Muszaphar Shukor
. (
pictures
)
wowww.. how i wishhhhhhh it was real. heeehehehe.
And, 1st part of her dream is, oh, this is the sweeeeetest part!! *drooling* hahahah.
It was abt me (read: ME!! hehe) n Dr SMS were travelling alone (read: ALONE ;)) to ISS. Just the TWO of us. Walauweeyy.. hahaha i really wished it was real. I dun care. Even tho its juz in her dream.
(damn. wonder why i dun have this dream myself haha ;P)
*smilingggggggggggggg* heehehe.
opsss here's the 2nd part. forgot oready :P
ok this is the funniest part. after both of us came back to earth, i invited my 2 officemates including this Edot to ISS together again. N this time Dr. SMS had to be left out bcoz tht spaceship can onli carry 3 ppl aite? *bloody spaceship* lol. So this is the moment where he got mad. haha funny eh? the reason why he got mad is bcoz he's the leader n why must he'd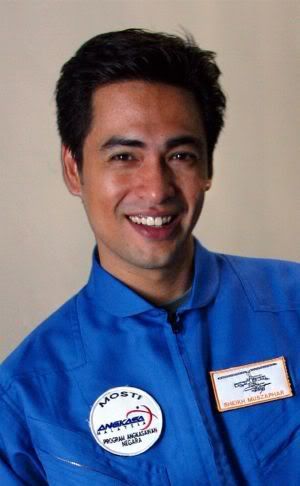 to be left out? hehehehe.

but the sadly part is she doesnt finish the dream!! warghhhhhhhhhh.
she woke up then n realized it was juz a dream. lolll. then all of us were laughing like mad.
but i like itttt so muchh hihihihihi.
*continues smiling n drooling* :P



Dr. SMS (left) n his siblings.